INFORMATION FOR STUDENTS
EXAMPLE (Fill in with your personal data)
↓
Full name
Course

Purpose of the payment

 

Number of hostel

Solanki Vanita Anil

1

HOSTEL FEES

5
PLEASE NOTE:
It`s mandatory for students to fill in the purpose of payment: it has to be HOSTEL FEES and NUMBER OF HOSTEL ( in case it`s not written ─ payment will be automatically transferred as the tuition fee for studying).
Only for 6 year students annual hostel fee calculates for 10 months instead of 12.
Once fees are paid, it will not be refundable/adjustable under any circumstances.
TIPS
for preventing new coronavirus infection (SARS-CoV-2):
Avoid contact with people who have returned from contries with high prevalence of COVID-19 within 14 days;

Avoid contact with locals where family members have returned from contries with high prevalence of COVID-19 within 14 days;

Avoid any contact with people with a cold;

Do not travel internationally (there is a high possibility that people with SARS-CoV-2 may be infected in airport lounges or in the aircraft cabin);

Do not attend events with large crowds (movie theaters, discos, etc.);

Limit use of public transport if the distance is short – better to walk, long distance – better to use a taxi;

Regularly ventilate your home (dorm rooms);

Do not touch your  mucous membranes of the mouth, nose and eyes with dirty hands;

Wash your hands thoroughly after returning from the street.
What is a coronavirus?
Coronaviruses are types of viruses that typically affect the respiratory tracts of birds and mammals, including humans. Doctors associate them with the common cold, bronchitis, pneumonia, and severe acute respiratory syndrome (SARS), and they can also affect the gut.
Symptoms
Cold- or flu-like symptoms usually set in from 2–4 days after a coronavirus infection and are typically mild. However, symptoms vary from person-to-person.
Symptoms include:
sneezing

runny nose

cough

fever in rare cases
exacerbated asthma
Transmission
Limited research is available on how HCoV spreads from one person to the next.
However, researchers believe that the viruses transmit via fluids in the respiratory system, such as mucus.
Coronaviruses can spread in the following ways:
Coughing and sneezing without covering the mouth can disperse droplets into the air.
Touching or shaking hands with a person who has the virus can pass the virus between individuals.
Making contact with a surface or object that has the virus and then touching the nose, eyes, or mouth.
Some animal coronaviruses, such as feline coronavirus (FCoV), may spread through contact with feces. However, it is unclear whether this also applies to human coronaviruses.
The National Institutes of Health (NIH) suggest that several groups of people have the highest risk of developing complications due to COVID-19. These groups include:
young children
people aged 65 years or older
women who are pregnant
Basic protective measures against the new coronavirus
Wash your hands frequently
Regularly and thoroughly clean your hands with an alcohol-based hand rub or wash them with soap and water.
Why? Washing your hands with soap and water or using alcohol-based hand rub kills viruses that may be on your hands.
Maintain social distancing
Maintain at least 1 metre (3 feet) distance between yourself and anyone who is coughing or sneezing.
Why? When someone coughs or sneezes they spray small liquid droplets from their nose or mouth which may contain virus. If you are too close, you can breathe in the droplets, including the COVID-19 virus if the person coughing has the disease.
Avoid touching eyes, nose and mouth
Why? Hands touch many surfaces and can pick up viruses. Once contaminated, hands can transfer the virus to your eyes, nose or mouth. From there, the virus can enter your body and can make you sick.
Practice respiratory hygiene
Make sure you, and the people around you, follow good respiratory hygiene. This means covering your mouth and nose with your bent elbow or tissue when you cough or sneeze. Then dispose of the used tissue immediately.
Why? Droplets spread virus. By following good respiratory hygiene you protect the people around you from viruses such as cold, flu and COVID-19.
Food
As a general rule, the consumption of raw or undercooked animal products should be avoided. Raw meat, raw milk or raw animal organs should be handled with care to avoid cross contamination with uncooked foods.
It is always important to follow good hygiene practices (i.e., wash hands and surfaces often, separate raw meat from other foods, cook to the right temperature, and refrigerate foods promptly) when handling or preparing foods.
Disinfecting kills germs on surfaces
Clean and disinfect voting associated electronics (e.g., voting machines, laptops, tablets, keyboards)
Consider the use of alcohol-based wipes or spray containing at least 70% alcohol to clean voting machine buttons and touch screens. Use of alcohol-based products may reduce risk of damage to sensitive voting machine components.
When and how to use masks
If you are healthy, you only need to wear a mask if you are taking care of a person with suspected 2019-nCoV infection.
Wear a mask if you are coughing or sneezing.
Masks are effective only when used in combination with frequent hand-cleaning with alcohol-based hand rub or soap and water.
If you wear a mask, then you must know how to use it and dispose of it properly.
How can I protect myself?
It is being claimed all kinds of things can protect you from the covid-19 virus, from vitamins to garlic. There is no evidence to support most of these claims. However, there is evidence that moderate exercise, adequate sleep and a healthy diet help keep your immune system in shape generally.
Take care of your immune system by getting proper nutrition, hydration, sleep and exercise.
If you have fever, cough and difficulty breathing, seek medical care early
Stay home if you feel unwell. If you have a fever, cough and difficulty breathing, seek medical attention and call in advance. Follow the directions of your local health authority.
Call your tutor immediately if you have any of the symptoms, mentioned above!
INTERNATIONAL COOPERATION
International cooperation is an integral part of BSMU activity as an international university, as well as an important instrument in ensuring the quality of education and its compliance with world standards. International activities are aimed at enhancing the University's image abroad and its further integration into the world of educational space and the scientific community.
Today the University maintains friendly relationships with 63 foreign universities and research institutes.
The agreements with Paul Sabatier University in Toulouse (France), University of Vilnius (Lithuania), University of Santiago de Compostela (Spain), Aristotle University of  Thessaloniki (Greece), etc. were signed over the past three years.



The result of our staffs' hard work is the development of strategic partnership relations, network interaction with foreign higher education institutions and promotion of students' academic mobility, young scientists and higher educational teaching staff.
Since 2006, the University has been actively involved in the implementation of grant projects, in the internship program for future doctors "Medical Students without Borders", funded by the Lyons Club of Austria in particular.
Thanks to the efforts of the International Relations Department, the University has joined the MEDEA project (Alliance of Medical Universities) within the framework of the program Erasmus Mundus.
In the course of projects' implementation the students of University and Master's degree students for the first time were given the opportunity to study at partner institutions lasting from 6 to 10 months.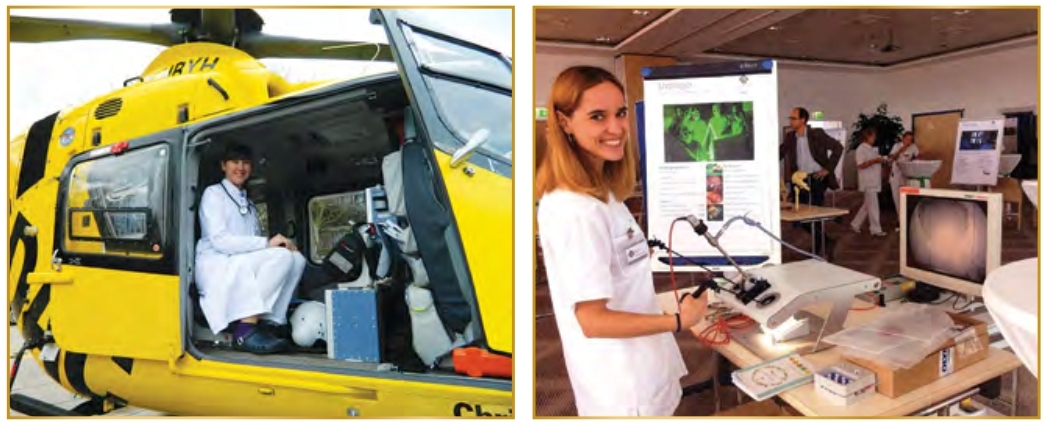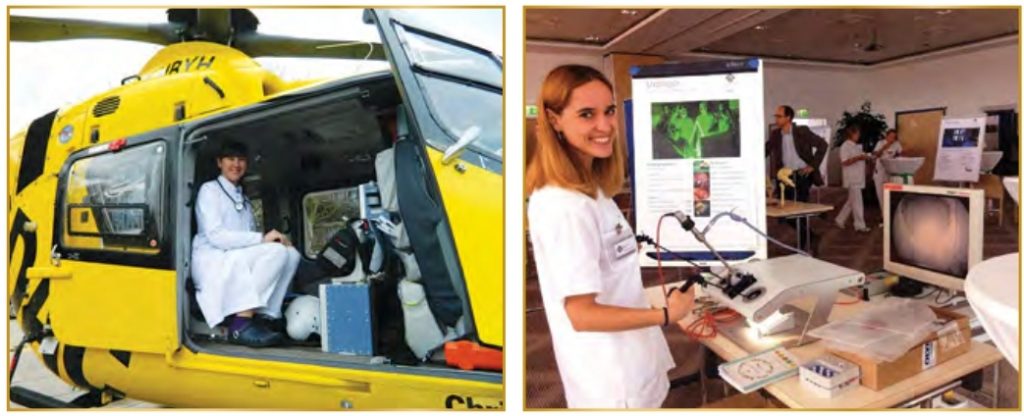 The project was aimed at developing cooperation and mobility in the field of medical education, improving the quality of European higher education and promoting intercultural understanding.
One of the important achievements of BSMU is the award-winning grant "TAME" ("Training Against Medical Error"), the aim of which was to introduce innovative training strategies for medical education in partner countries and to modernize medical education programs through the use of interactive forms and learning methods in "virtual patients".
An important direction of the international activity of the University is the development and implementation of academic mobility projects. The active participation of the University in the Erasmus grant program competitions in the KA1 direction "Mobility in Higher Education" annually provides more and more opportunities for gaining international experience both for students and higher educational teaching staff.
Currently, the cooperation under this program is being implemented with 5 European educational institutions: the University of Foggia (Italy), Aristotle University of Thessaloniki (Greece), Paul Sabatier University (France), Lithuanian University of Medical Sciences (Lithuania) and the University of Medicine and Pharmacy, Craiova (Romania). For the implementation of projects under the Erasmus + program, 16 students and 1 undergraduate student were trained; 2 graduate students and 5 teachers received internships at partner universities.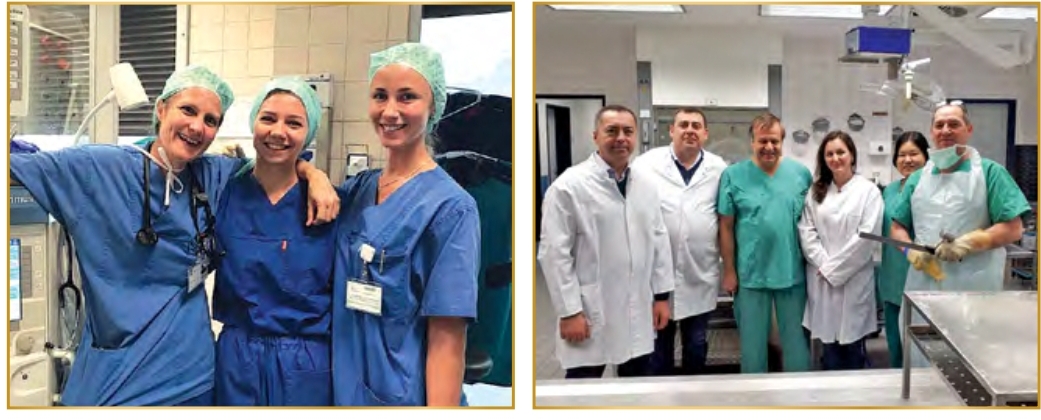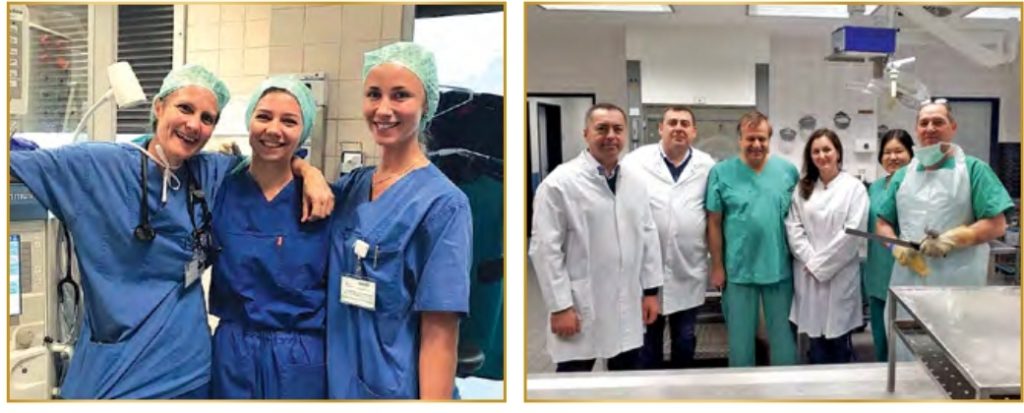 On the basis of BSMU, a regional contact center for the EU "Horizon 2020" program has been opened in thematic area: Health, demographic change and well-being.
In 2017, BSMU became the first medical university in Ukraine to become an individual full member of the European Association of Universities (EUA), which brings together more than 850 educational institutions from 47 European countries. The University joined the implementation of co-projects and research in the higher educational system and participates in the annual conferences of the Association, its workshops and seminars.
In December 2018 the University was included in the Ukrainian-Swiss project "Development of Medical Education in Ukraine", which will be completed by the end of 2022 and is funded by the Swiss Agency for Development and Cooperation of the Federal Department of Foreign Affairs of Switzerland. The goal of the project is improving the system of medical education and increasing the quality of health care to the population of Ukraine. The main objectives of the project are: equipping simulation centres, introduction of innovative technologies, organization of trainings for teachers in student-oriented learning, strengthening academic virtues.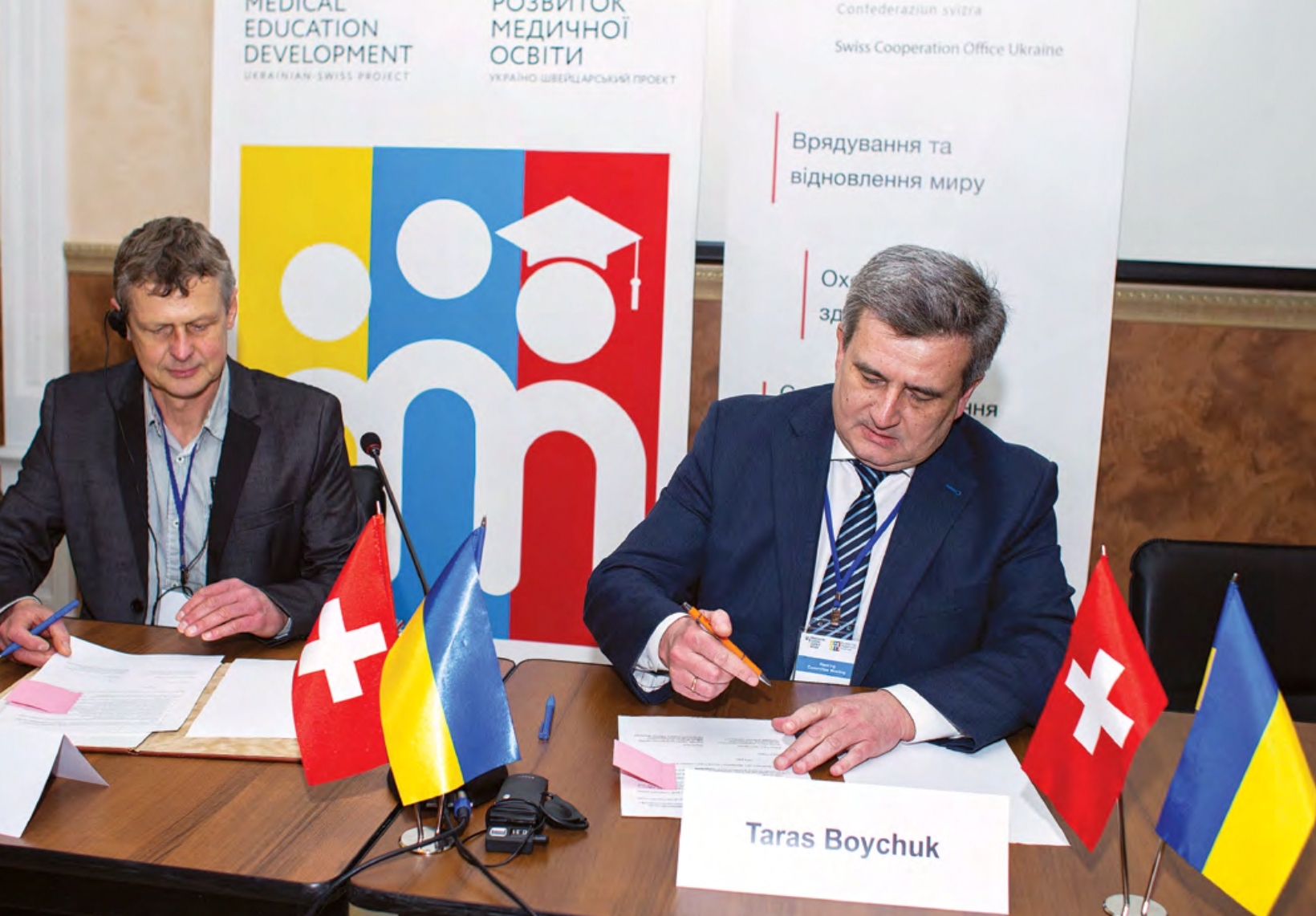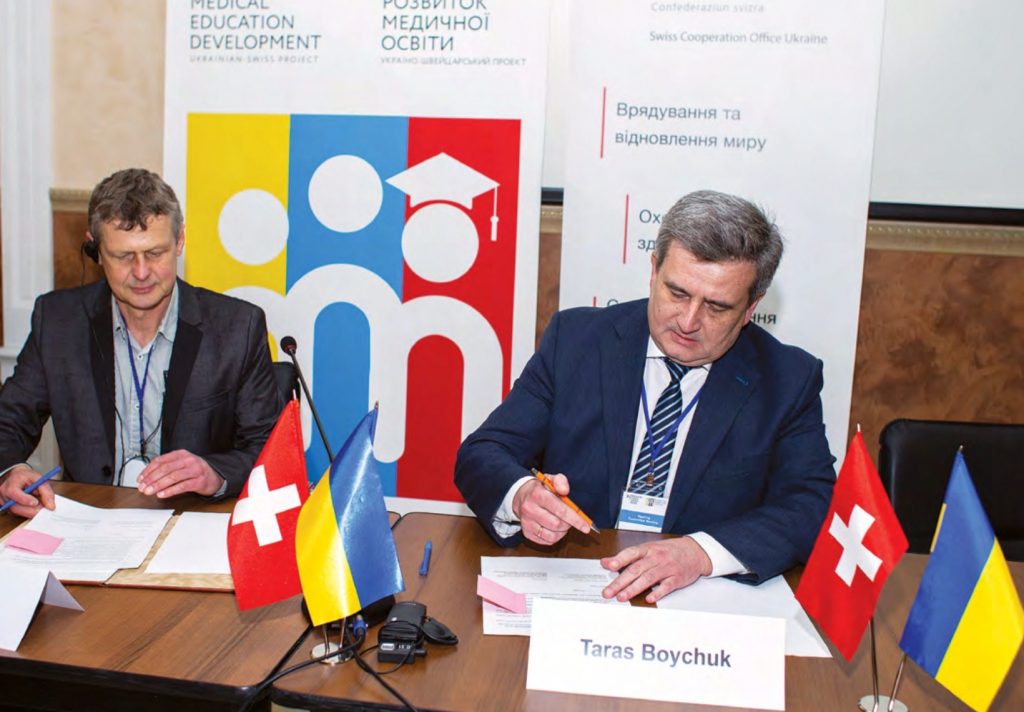 BSMU is working hard concerning admission of foreign citizens to study. About 1,800 foreign citizens from 22 countries get higher education at our educational establishment. The University provides accommodation for students in 8 hostels. The future activities will continue to be successfully aimed at developing, expanding and strengthening the international relations and authority of the University.